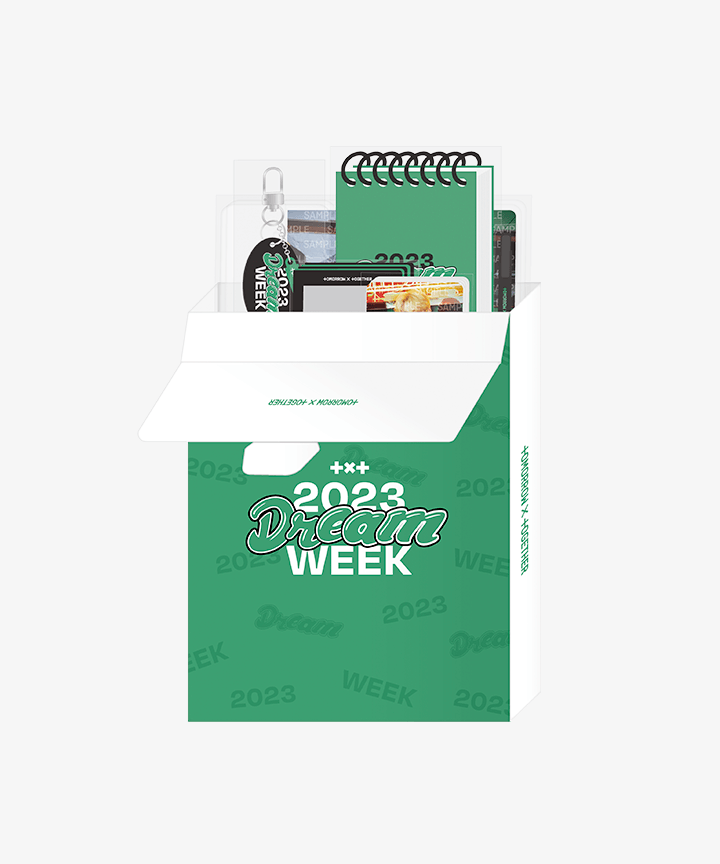 [In Stock MD] TXT - 2023 Dream Week Kit
Regular price
$39.99
/
Tax included.
Shipping
calculated at checkout.
---
---
[In Stock MD] TXT - 2023 Dream Week Kit
Must Read ! 
Externally # 2, the box is dented. The product contained within is not defective and is not a reason for a refund. Please be careful when purchasing.
[Detail]
Keyring: 3.5 x 9.5cm / 1ea

Acrylic Photo: Min - 3.6 x 2.13cm, Max - 15.6 x 10.9cm / 1set

Notebook: 7.3 x 11.2cm / 1ea

Ballpoint Pen: 0.8 x 14.5cm / 1ea

Mini L-Holder Set: 7.8 x 10.8cm / 1set

Mini Photo Card Set: 7 x 10cm / 1set
Shipping Information
Prep Time: We
ship your items within 2~3 business days.
However, when you order pre-order items, it will be shipped on the release date.
If you order pre-order items and in-stock items together, all items will be shipped together after pre-order items arrive.
All purchased items from our listings will be shipped from Korea South.
We also provide combined shipping method for items if you order multiple items.
Shipping charge will be calculated when you check out.
Shipping Option:
CJ Logistics / Korea Post
Countries:
South Korea Only
Price will
be flat $3.99 no matter how many items you purchased or how heavy they are.
Delivery Time: 1~3 days
K-Packet (Korea Post) :
Countries: Brazil, Canada,
France, Germany, Hong Kong SAR, Japan, Malaysia, Philippines, Singapore, Spain,
Taiwan, Thailand, United Kingdom, United States, Vietnam 
Price:
Varies by weight (No more than 2kg will be allowed with K-packet)
Delivery Time: 4 weeks - 8 weeks
FedEx Priority
Countries: All above countries on K-Packet plus Brunei,
China, India, Indonesia, Kazakhstan, Macao SAR, Belgium, Croatia, Czechia,
Denmark, Estonia, Finland, Georgia, Greece, Greenland, Hungary, Iceland,
Ireland, Italy, Liechtenstein, Lithuania, Luxembourg, Malta, Monaco,
Montenegro, Netherlands, Norway, Poland, Portugal, Romania, Serbia, Slovakia,
Slovenia, Sweden, Switzerland, Vatican City, Costa Rica, Dominica, Dominican
Republic, Guatemala, Argentina, Bolivia, Chile, Colombia, Ecuador, Paraguay,
Peru, Uruguay, Venezuela, Australia, New Zealand, Mexico, Turkey 
Price: Varies by weight
Delivery Time: 3 days ~ 7 days (Sometimes slower)