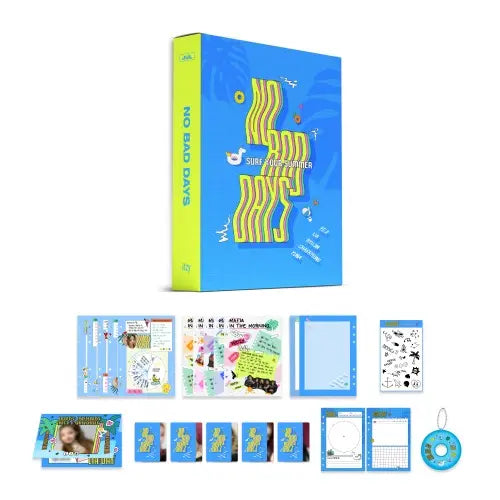 [pre-order] Itzy - No Bad Days July Limited Monthly Kit (Surf Your Summer) + Special Polaroid Photocard Set (5EA)
Regular price
$54.99
/
Tax included.
Shipping
calculated at checkout.
---
---
This is a pre-order item!! Item will be shipped around July 7~8th.
[pre-order] Itzy - No Bad Days July Limited Monthly Kit (Surf Your Summer) + Special Polaroid Photocard Set (5EA)
          1. OUT BOX : 165 x 225 x 30 mm
          2. DIARY REFILL PAPER : 148 x 210 mm
              - SPECIAL PAGE 5P
              - NOTE PAGE 38P
          3. TATTOO STICKER: 120X180  mm
          4. SPECIAL BIRTHDAY POP-UP CARD : 180 x 240 mm
          5. PHOTOCARD SET : 5ea 1set / 55 x 85 mm
          6. Summer Memo Set (Planner 15P + Summer Diary 15P) : 135 X 195mm (30P)
          7. Tube Key Ring : 90 X 90 MM
          8. SPECIAL PRE-ORDER POLAROID PHOTOCARD INCLUDED (5EA) . 
Shipping Information
Prep Time: We
ship your items within 2~3 business days.
However, when you order pre-order items, it will be shipped on the release date.
If you order pre-order items and in-stock items together, all items will be shipped together after pre-order items arrive.
All purchased items from our listings will be shipped from Korea South.
We also provide combined shipping method for items if you order multiple items.
Shipping charge will be calculated when you check out.
Shipping Option:
CJ Logistics / Korea Post
Countries:
South Korea Only
Price will
be flat $3.99 no matter how many items you purchased or how heavy they are.
Delivery Time: 1~3 days
K-Packet (Korea Post) :
Countries: Brazil, Canada,
France, Germany, Hong Kong SAR, Japan, Malaysia, Philippines, Singapore, Spain,
Taiwan, Thailand, United Kingdom, United States, Vietnam 
Price:
Varies by weight (No more than 2kg will be allowed with K-packet)
Delivery Time: 4 weeks - 8 weeks
FedEx Priority
Countries: All above countries on K-Packet plus Brunei,
China, India, Indonesia, Kazakhstan, Macao SAR, Belgium, Croatia, Czechia,
Denmark, Estonia, Finland, Georgia, Greece, Greenland, Hungary, Iceland,
Ireland, Italy, Liechtenstein, Lithuania, Luxembourg, Malta, Monaco,
Montenegro, Netherlands, Norway, Poland, Portugal, Romania, Serbia, Slovakia,
Slovenia, Sweden, Switzerland, Vatican City, Costa Rica, Dominica, Dominican
Republic, Guatemala, Argentina, Bolivia, Chile, Colombia, Ecuador, Paraguay,
Peru, Uruguay, Venezuela, Australia, New Zealand, Mexico, Turkey 
Price: Varies by weight
Delivery Time: 3 days ~ 7 days (Sometimes slower)